KARL POLAND
Room for Rellies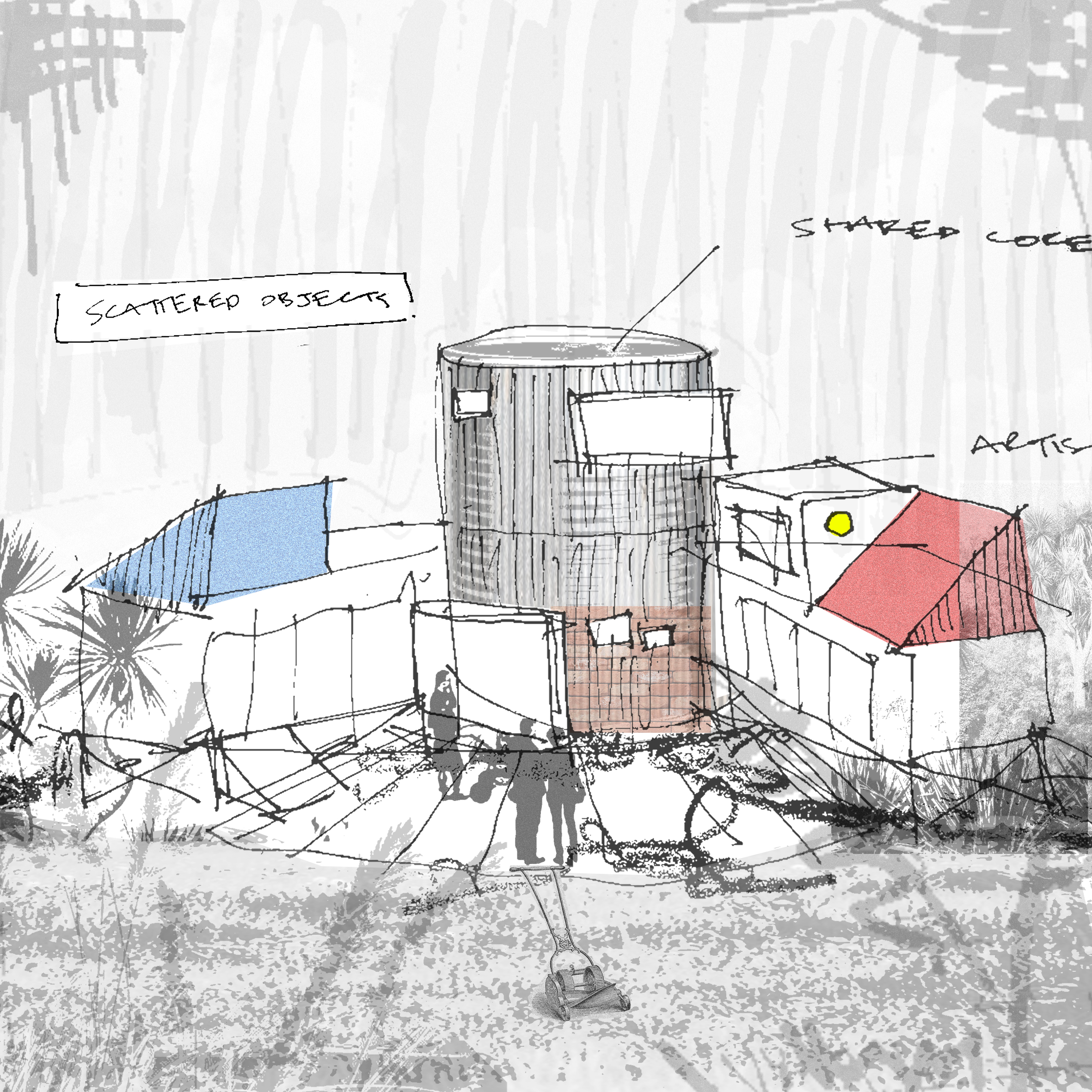 I'm fed up with housing in New Zealand. As an architecture student, it is soul crushing to see careless design scattered throughout Auckland city, and now the wider suburbs. At the heart of it, the likes of Fletcher Living developers will leverage a 21st century-appropriated ideology of the same nuclear family model to entice a new generation of buyers with "
New homes so good you won't want to leave"
. Yeah right. As if a collection of muddled grey townhouses is firstly a desirable lifestyle, and secondly a solution to something as complex as the housing crisis.
After a semester in and out of lockdowns, we were welcomed back to studio with a design brief by Fletcher Living, a proposal for the next stage in their Waiata Shores development. Yes, they titled the development after Māori song.
In an effort to stick out like a sore thumb and cause a stir,
Room for Rellies
takes the ready-made form of an abstracted, baked bean can (in true Andy Warhol fashion) and frankensteins it with a group-developed 'BLOCK' modular panel system. Confrontational and satirical in its architectural representation, the building houses a multi-generational family where the mother is a mixed media artist. Even though idiosyncratic in nature, the home does not disregard practicality or economy.
The project is uniquely Kiwi in its quirky formal and functional interventions. Implementing a D.I.Y approach to architecture, technical details take on a 'number 8 wire' mentality, backyards are to be a focal point, and the suburban site is to be overgrown with flax, cabbage tree and the pesky kikuyu grass — all a nod to my own upbringing within kiwiana culture.
My project is not at all a solution to New Zealand housing, but rather an investigation into autonomy, the role of the architecture student, and my somewhat chaotic state of mind in 2020.
Karl Poland

is currently completing a Bachelor of Architectural Studies at the University of Auckland. This project was an individual component of a group project called 'BLOCK' for Year 2 Design in 2020. Tutored by Jeremy Priest.