with Binh Minh Ha
04.08.2021
A12's visualisation duo, Jono Yoo and Mick Charoenphan, and fashion designer, Joon Yang, discuss their latest collab, the seemingly paradoxical interface between digital processes and hand making, and the rejection of commercial visual consumption.


When asked about how the Priori campaign was initiated, Jono Yoo told us it was him that reached out to the designer, Joon Yang. "Mick (Charoenphan) and I were at a stage where we were tired of rendering for the real estate market. It truly does make money, but we just wanted to do something creative. What can we show through rendering that was outside of architecture? We have this role model rendering company based in Norway called KVANT-1 ― they were our inspiration. The studio has done lots of collabs with fashion designers, and Mick is also freelancing for them." Companies like these are very common overseas where there is more demand, Mick explains, "Visualisation in New Zealand that I know of are mostly in developments. They all look the same, which is what the market wants, but not what we want to do."

This campaign was part of an experiment, trying to define what A12 could be. Jono and Joon had exhibited together a year before, and luckily Joon had just released a collection of garments which had the right amount of conceptual undertaking for reinterpretation. During the first drafting session, the two started sketching from references and writing. Joon explains, "The way we work together is not like I want this, this, and this. I'd rather show things that inspire me and then see how they interpret the language of those images and concepts; lots of details of my clothing and how I ended up there."

Joon's approach is reductive, alluding to the philosophy behind a Buddhist monk's robe which is one piece of fabric that wraps around the body. Jono muses, "His clothes look like a blanket…but like…in shirt form." Joon laughs, and goes on to elaborate, "You typically have seams on your garments depending on how you want it shaped around the body. Designers change form through the seams. I wanted to oppose that, to bring back a more primal type of clothing. It's a form of reverse engineering because you must still know where everything needs to go. My ultimate goal is creating something more like a blanket, true. Right now it still looks like a garment."

Mick was introduced into the project to initiate concept design. "When I first looked at the sketches and the writing, I tried to interpret what Jono was trying to tell me. The story of the skin, the silhouette, the layers. Joon's clothes are very humble, being true to form, and we got inspired by that. It was natural ― we really looked into natural," Mick laughs. "Mountains and rocks and primitive stuff." We asked where they got the rocks from. "The net," Jono says.

Colour grading became an important consideration when trying to balance each other's signatures in the image-making process. Mick explains, "When you go natural, you don't want to go too vibrant, even though nature is in fact that. It will take away from the clothing. But the focus can't also just be on the clothes either ― that's very commercial. It was hard to balance, and all trial and error. We looked at those images more than a hundred times."

Elemental draping of fabric over rock adds a touch of literal irony to the whole pairing. A12 operates completely in the digital realm, in contrast with Joon's craft where everything is produced by hand. "If I showed something analogue in analogue form, it would make the whole thing very strongly framed. By collaborating opposing views, you can create something new. And the scope of the digital world is so large that they could expand my philosophy as well."

The campaign certainly speaks to both realms of design, and yet to neither at the same time. Joon smiles, "It wasn't about Architecture X Fashion. It's more the concept and object. I approached the clothes with a feeling which is abstract. And A12 interpreted those things into their kind of vision." Mick adds, "There's no real philosophy, and we try not to frame ourselves in any certain way, or trying to be highbrow. The best part of the process is when people from all these different creative fields collaborate; fashion, architecture, rendering, illustration, or even just having Michael and Sivan on board. The fact that these skills and lines of thought are so common across our different industries. How these things translate into image-making is where the true essence of the project lies."

An obvious merit in collaboration is the showcasing of boundaries being pushed when different creative fields intersect. Fashion campaigns these days exist on the basis of quickly generating content for advertising and buying. Joon reflects, "Fashion is a real commercial thing, same as architecture. It kind of seems like a quick photoshoot, quick background, two photos for Instagram, and you move on." These images feel more lasting, Jono believes, "It's in the way we consume them."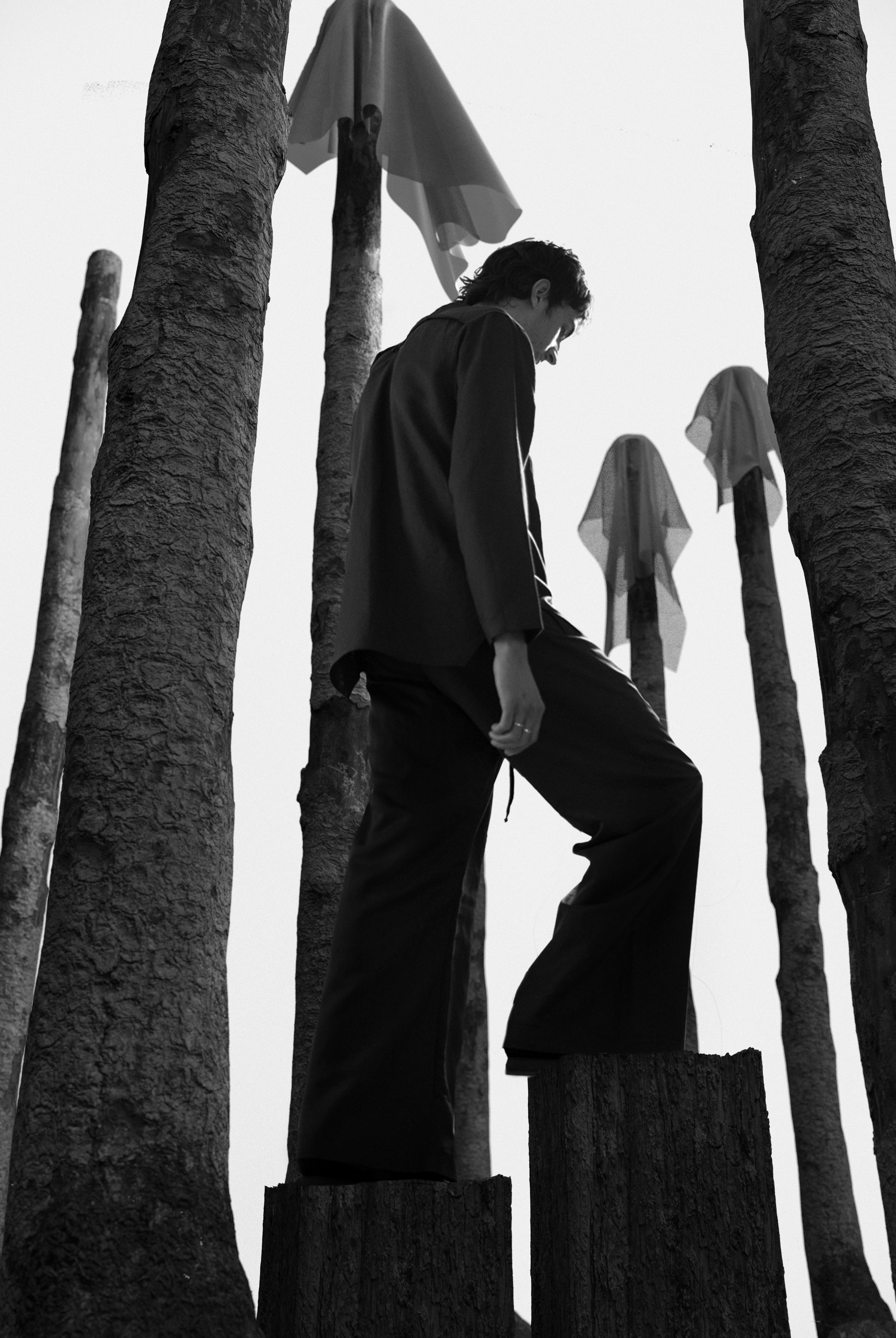 "At the end of the day, the notion of architecture seems to be somewhat similar to clothing; layer between skin and outside world: layer between interior and exterior. They both yield a humble form of shelter from externality."

— Jono Yoo
╍ Priori, 2021 Campaign
Production & Visualisation: A12
Garment & Styling: Joon Yang
Photography: Michael M Park
Model: Sivan, Self Agency
Founded by friends Daniel, Jin, Jono and Mick, A12 is a creative studio stemming from an architectural background, specialising in the visualisation of spaces. At A12, they believe that every space has a story to tell, and are constantly experimenting with new ways to pursue that idea.
Joon Yang is a South Korean born, Auckland-based fashion designer and maker. Joon creates contemporary clothing by twisting traditional tailoring, cutting methods, and skills. His basic design principles find purpose in eliminating unnecessary decorative features to reintroduce pure anatomical shapes and lines.

These pieces represent studies that explore austerity in menswear through the philosophy of Buddhism. The garments are inspired by the monk robe; made from a single rectangular piece of fabric that wraps and folds around the body in a primal sense, and applying that feeling to the everyday.